I love getting awards. I have gotten a few for my other blog
Mia

Sogni

Dolci
, which is about my daily doings and my
scrapbooking
, but I have now gotten my first 2 for my book blog and I'm happy!
This award was given to me by
Steph
over at
Fangs Wands and

Fairydust
. She has a beautiful blog that I love to visit. It has an ethereal quality that is just delightful!
This award was given to me by Julie at
Reading Without Restraint
. Julie's blog is wonderful. I love how it's designed, when I stop by it always puts a smile on my face. She has done an awesome job with her blog and I am very flattered by her tip of the hat to me : ) ! I hope my blog looks just as good one day.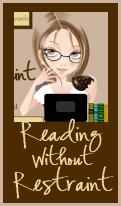 The Versatile Blogger
award's
rules are as follows -
List seven things about yourself and then pass it on to fifteen other
bloggers
whose blogs you truly enjoy. I am going to wait just a bit since I've seen this around and I want to make sure I pass it to a blogger who hasn't gotten it. When I visit the Hop I'll be sure to find some wonderful ones.
The Stylish blogger Award rules are similar -
List five random things about myself and then pass it on to five
bloggers
.
I will do this one now since 5 is much easier to do.
Stylish Blogger Award
I have been married since I'm 16, 29 yrs
I hate liver, yuk!!
I have fallen arches, a flat foot which means a wide foot!!
My son was stung by a scorpion in our yard when he was 4
I am originally from Brooklyn N.Y. but have lived in So Cali for 21 yrs now
*******
In book news I've finished
Magic Bleeds by

Ilona

Andrews
and I loved it! Well worth reading. Both Kate and Curran are just great characters.
My dilemma is which book to start next. #2 in the Queen Betsy series
Undead and Unemployed
or # 3 in the
Outlander
series,
Voyager
. Oh boy who do I choose? I just
wis
h I would've loaded # 2 of the In Death series
Glory In Death
on my
kindle
since I'm here in N.Y. and I really liked # 1! Then again since I have a ton of books on my kindle that I haven't read I may just choose something totally different : ) Just call me fickle.